First Line Therapy®
What is FirstLine® Therapy?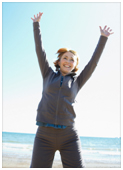 Contact the center today to begin your journey to the perfect body composition for you.  FirstLine Therapy teaches you to live your life in a way that enhances your health and prevents disease, enabling you to achieve a full, healthy lifestyle.
FirstLine® Therapy is based upon extensive scientific research demonstrating that chronic diseases associated with aging can be prevented by adopting a healthy lifestyle. These diseases include:
Alzheimer's * Cancer * Diabetes * Heart disease * High blood pressure * Metabolic syndrome * Osteoarthritis * Osteoporosis * Stroke
FirstLine® Therapyis recommended as the "first line of defense" by leading health organizations for individuals with many of the following conditions:
Stress-related disorders * Polycystic Ovary Syndrome * PMS * Menopause * Other hormone-related symptoms * Conditions related to obesity
Fundamentals of FirstLine® Therapy:
-Education on leading a healthy lifestyle
-Development of balanced eating habits
-Nutrition education
-Regular physical activity
-Appropriate nutrition supplementation
-Sleep for optimal mind/body function
Getting Started
We will work with your primary care physician to assess your current health status and we will take a measurement of your body composition (the ratio of your body fat to your lean muscle mass). A higher ratio of muscle increases metabolism and is associated with a lower incidence of illness. On of the most powerful tools in controlling the aging process is improving your muscle-to-fat ratio.
Your Personalized Program includes:
Initial testing and follow-up testing
Individual consultations
FirstLine® Therapy Guidebook
Individualized nutritional product recommendations
FirstLine®Therapy Program Schedule
Week 1: Bioelectrical Impedance Testing
Initial consultation to review test results and establish goals
Weeks 2-5: Regular visits for lifestyle coaching
Week 6: Re-testing to evaluate your progress
Weeks 7-11: Regular visits for lifestyle coaching
Week 12: Re-testing to evaluate your progress
If goals have been met, a maintenance program is outlined
Or… you may continue the program!
FirstLine® Therapy removes the guesswork and teaches you how to support your health. Personalized Programs are available in the Milwaukee office and may be purchased as a 12 Week Package. Monthly payment plans are available.