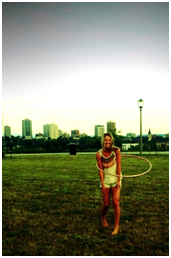 Sarah Dosmann is an internationally certified family, children, and baby yoga teacher. Sarah also teaches kindergarten at a Milwaukee Public Montessori School and is constantly inspired by the liveliness and creativity of children. Yoga is a part of her daily life and she really believes yoga can support you in any life goal.
Sarah also teaches hula hooping. She was introduced to hoop dancing about three years ago and immediately became enthralled by the hypnotizing beauty of the dance and the wellness benefits that this dancing offers. Dancing and performing with local troupes in Milwaukee, she is excited to share her passion for this organic expression with you!
A thorough and patient teacher, Sarah celebrates each break-through with her students as their skills develop. Her supportive teaching style leads students to find joy in the magical space within the hoop or on their mat.
Sarah offers a variety of Milwaukee-based classes for children, families, and special occasions. Sign up for our newsletter to stay abreast of her latest and greatest!